Wideband Linear Differential Amplifier from 30 kHz to 20 GHz with Adjustable Gain
---
Description:
The DSC-R415 Wideband Linear Differential Amplifier features adjustable gain and bandwidth, as well as, two modes of operation: Automatic Gain Control and Manul Gain Control. The typical operating frequency range is 30kHz through 20 GHz. The multi-functional differential amplifier is useful for several applications such as optical, as well as RF, communications and general test setups, where optimization of gain and bandwidth are advantageous.
All RF Amplifiers should be this easy to use...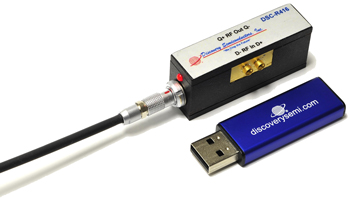 ...when using Discovery's they are!
Salient Features:
Easy-to-use RF Amplifier Gain Block
Flexible Gain and Bandwidth Control
Ultra Broadband Response
Low Group Delay
Low Noise
Differential Inputs and Outputs
Powered from a Single Regulated DC supply
Applications:
General Purpose Wideband RF Amplifier
Ideal for Optical and RF Communications (30 kHz low frequency cutoff)
Test and Measurement
PAM4 Testing
Available Models:
DSC-R415 - Wideband Linear Differential Amplifier from 30 kHz to 20 GHz with Adjustable Gain
Related Products and Papers: